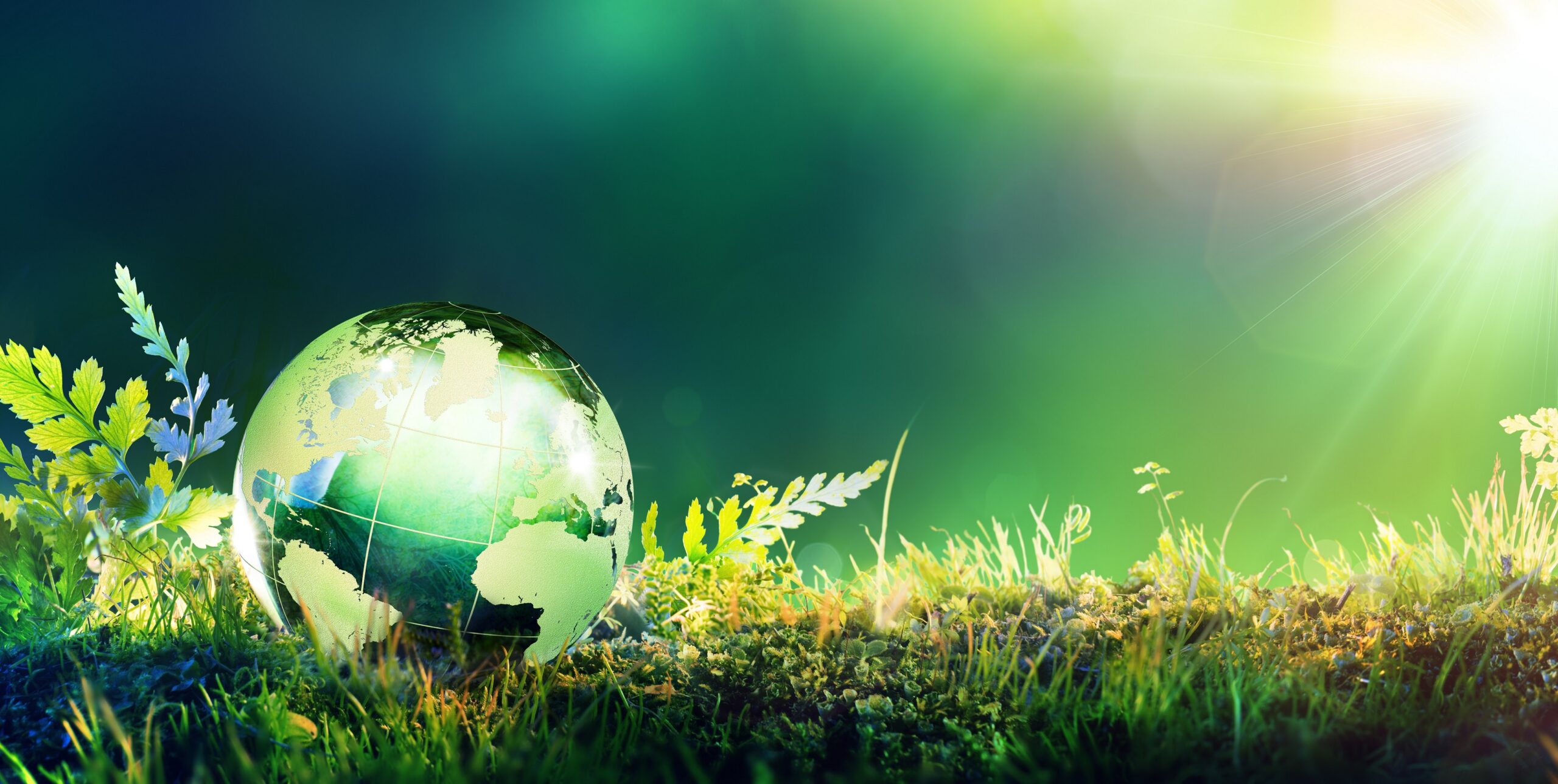 InvestEU leverages €300 billion investments for New Green Deal projects
The New Green Deal is an ambitious rethinking of Europe's economy, transport and energy sectors aimed at turning the EU into a global leader on the clean technologies that will shape the coming decades.
Europe wants to be a front-runner in this field and set the goal to reach carbon neutrality by 2050. The New Green Deal is the flagship of the new European Commission (2020-2025) and it is destined to change significantly the whole economic system. Therefore, not only it will impact future plans and programmes – as all EU policy and legislation moving forwards will be predicated on putting the EU in a place to meet this 2050 commitment – but in short term it will create noticeable challenges and opportunities for a wide range of the EU's economy.
Measures accompanied with an initial roadmap of key policies range from ambitiously cutting emissions, to investing in cutting-edge research and innovation and preserving Europe's natural environment. In particular, toxic air and its health impacts would be tackled through tougher air quality requirements, and energy targets would be raised to generate more energy from renewable sources, up to 100% by 2050. More carriages would be transported by rail and water, and greenhouse gas emissions from air travel would be reduced.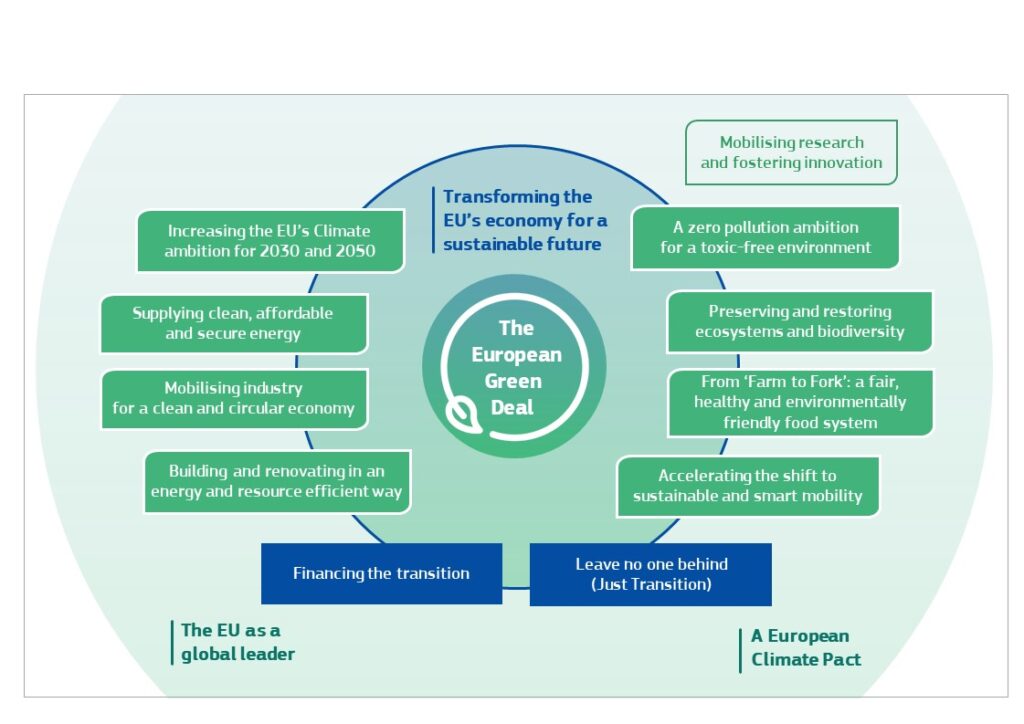 To achieve its purpose, the EU Commission unveiled a detailed proposal on how to finance it. The European Green Deal Investment Plan, aims at attracting at least one trillion euros worth of public and private investment over the next decade. Around half of the money should come from the EU budget thanks to numerous programmes that contribute to climate and environment projects, such as the Regional Development Fund, Cohesion Fund, Horizon Europe and the Life programme. This is also expected to provide an additional €114 billion in co-financing by EU countries.
Invest EU will leverage around €279 billion of private and public climate and environment related investments over the period 2021-2030. Moreover, to be sure that no one is left behind, European Commission President Ursula von der Leyen proposed a Just Transition Mechanism, an instrument made of three pillars: the Just Transition Fund, the InvestEU funding stream and loans from the European Investment Bank backed by the EU budget. This mechanism is expected to attract €100 billion in public and private investment focused on helping those regions that are dependent on fossil fuels.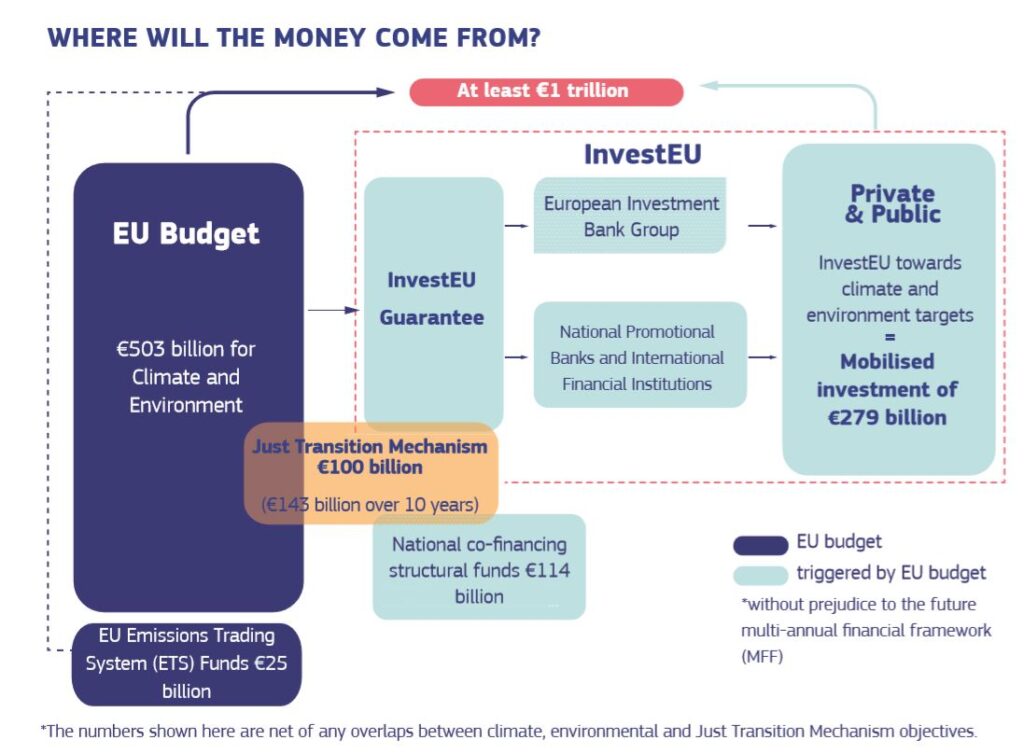 To put it another way, member States should guarantee that at least the 25% of the EU Budget is devoted to the fight against climate change. In fact, EC President Ursula von der Leyen admitted that she is ready not to back up the next EU Budget otherwise.
The European Green Deal can be considered a new economic strategy. The whole package of measures and innovations are aimed at increasing prosperity and wealth. It is supposed to be a growth that gives back more than it takes away. However, the ambitious and challenging objectives will be accomplished only with the commitment and participation of all the Countries involved.